Check it out --- I got both girls down for a nap at the same time and I had make up on....so here is a short little video on some of the stuff I love to use to help make my Project Life Album look it's best....enjoy!!!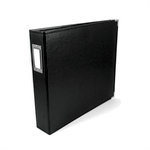 We R Memory Keepers - Classic Leather - 12x12 - Three Ring Albums - Black
Scrapbook.com
And the newest page protector that I can not wait to incorporate into my project life album!!!!!
Seriously...go check this stuff out!!! I will be back shortly with more Project Life Layouts to share!!